multi-media
2020
Andrea Cardinal |
Red Flag
| Photograph | 05.30.2020
Andrea Cardinal |
Distress
| Photograph | 05.30.2020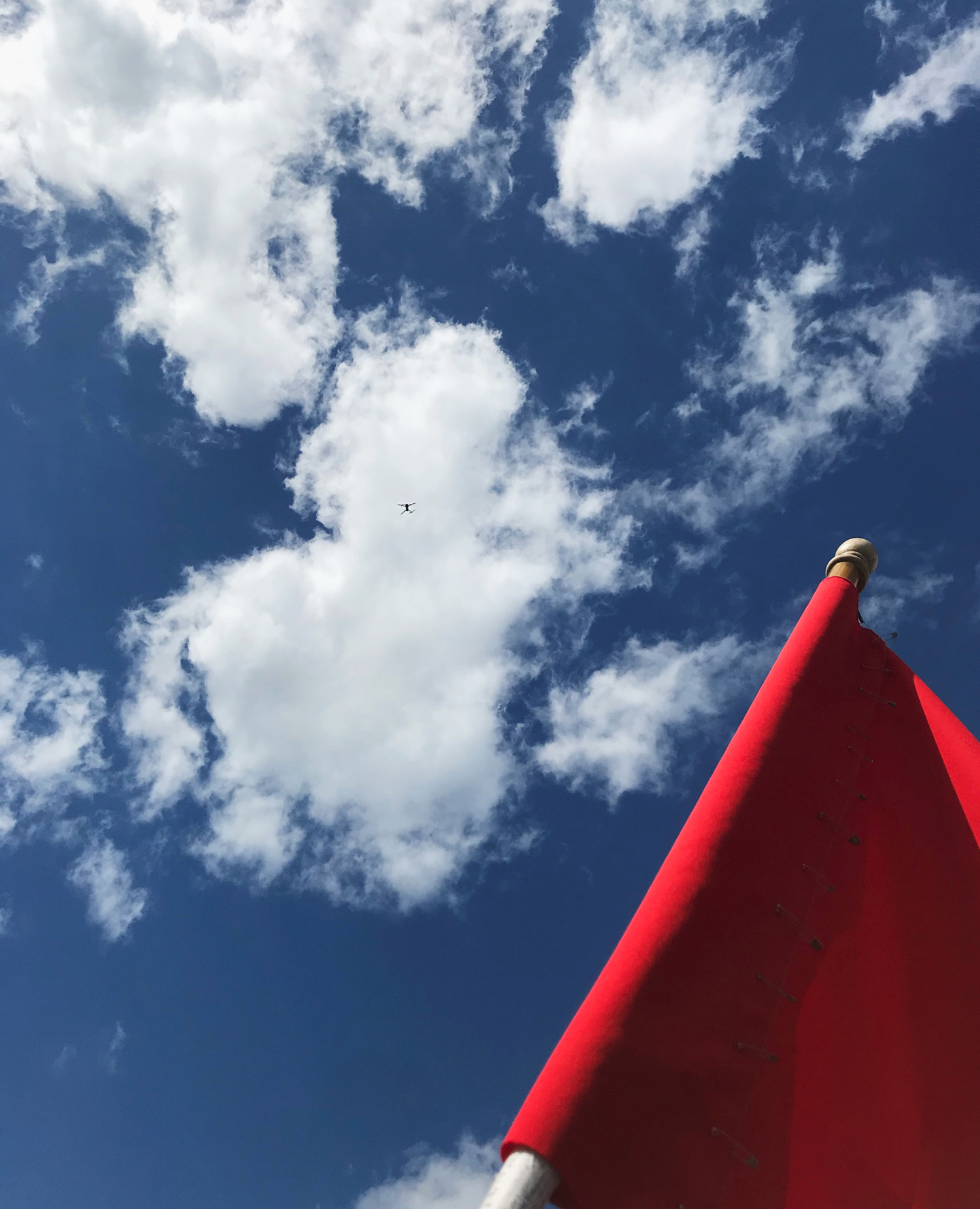 Andrea Cardinal |
Drone
| Photograph | 05.30.2020
︎
AND THEN: WE WERE TEARGASSED
We left our self-imposed quarantine to attend a Community Solidarity Response Network event downtown Toledo, OH on May 30th, 2020. We assembled at the police headquarters and when the permit and programming were up, we marched in the streets around the block. The surge of joy that we were collectively creating was punctured by wooden bullets that met us at the corner. Running away from the bullets at our backs, my family and I were shot with teargas canisters from our right—without warning, while we were on the sidewalk, fleeing.
I carried this Red Flag at the march—its inaugural use—partly as a warning about the fascist terror that up until that point, I had been passively observing. I also use the flag pole as a cane to help with balance, which I struggle with due to physical disabilities and pain.
After being teargassed, we poured water on this fabric to wipe our faces and hands. The chemical smell still lingers.
Red Flags Everywhere
is an online, crowd-sourced interactive project based on the writings of Hannah Arendt and the recognition of fascism in America today. I have instructional videos for how to make different kinds of red flags from small, hand-held flags, to house flags, and oversize banners.
"The ideal subject of totalitarian rule is not the convinced Nazi or the convinced Communist, but people for whom the distinction between fact and fiction (i.e., the reality of experience) and the distinction between true and false (i.e., the standards of thought) no longer exist."


"True goal of totalitarian propaganda is not persuasion, but organization of the polity. ...What convinces masses are not facts, and not even invented facts, but only the consistency of the system of which they are presumably part."
Every time that something happens that feels wrong—for all the big and small injustices—I ask that you make a red flag. Any time something happens with our government, with the police, in your community, even with your friends and family, that feels like it's 'off', I ask that you manifest that feeling you have tangibly. Note the inconsistencies of the system.
This work is featured in
And Then:
an exhibition and publication produced by Agitator Gallery in Chicago, Illinois.