We Must Love Each Other And Support Each Other
live screen printing event
Detroit Sidewalk Festival
2021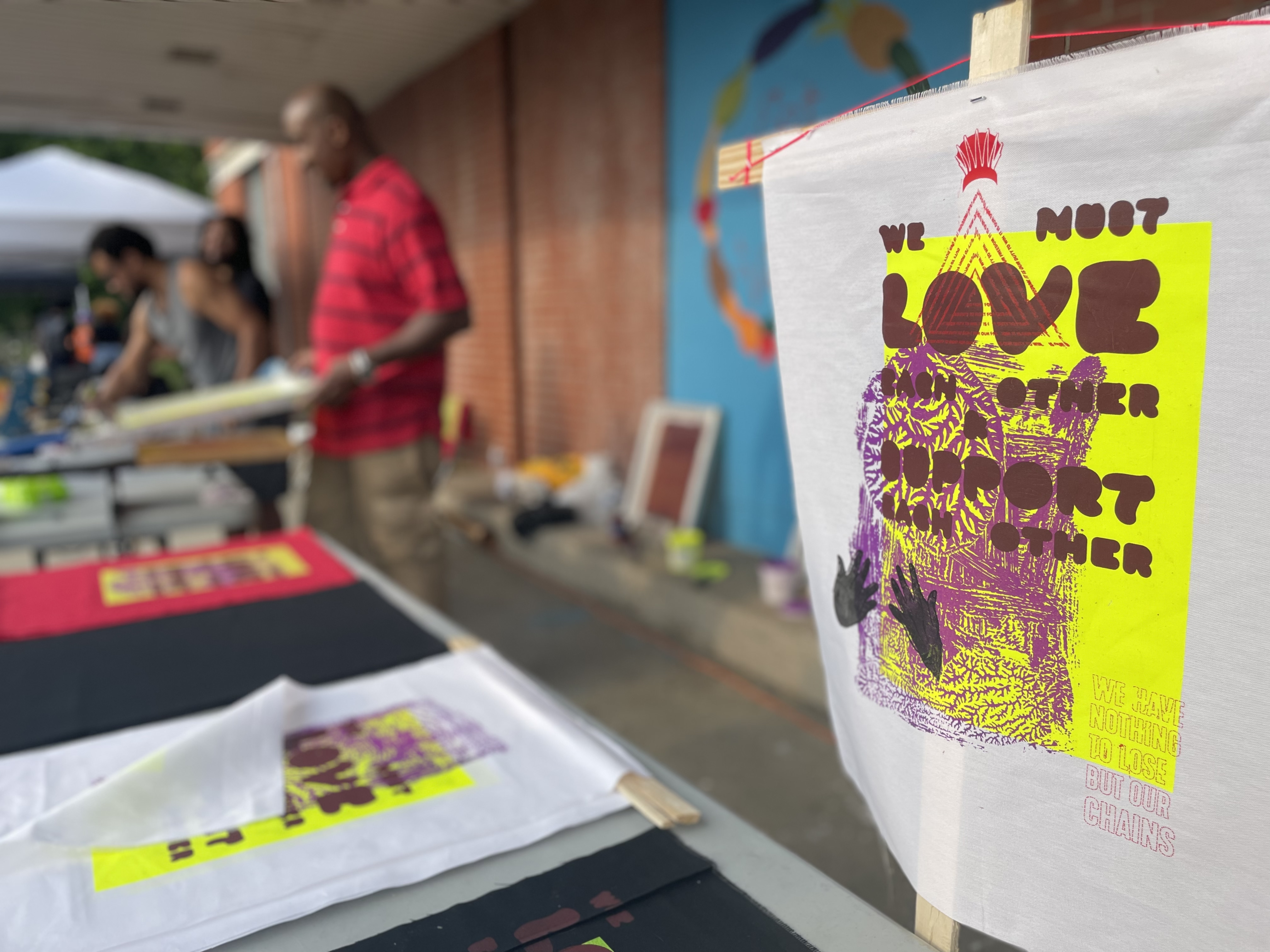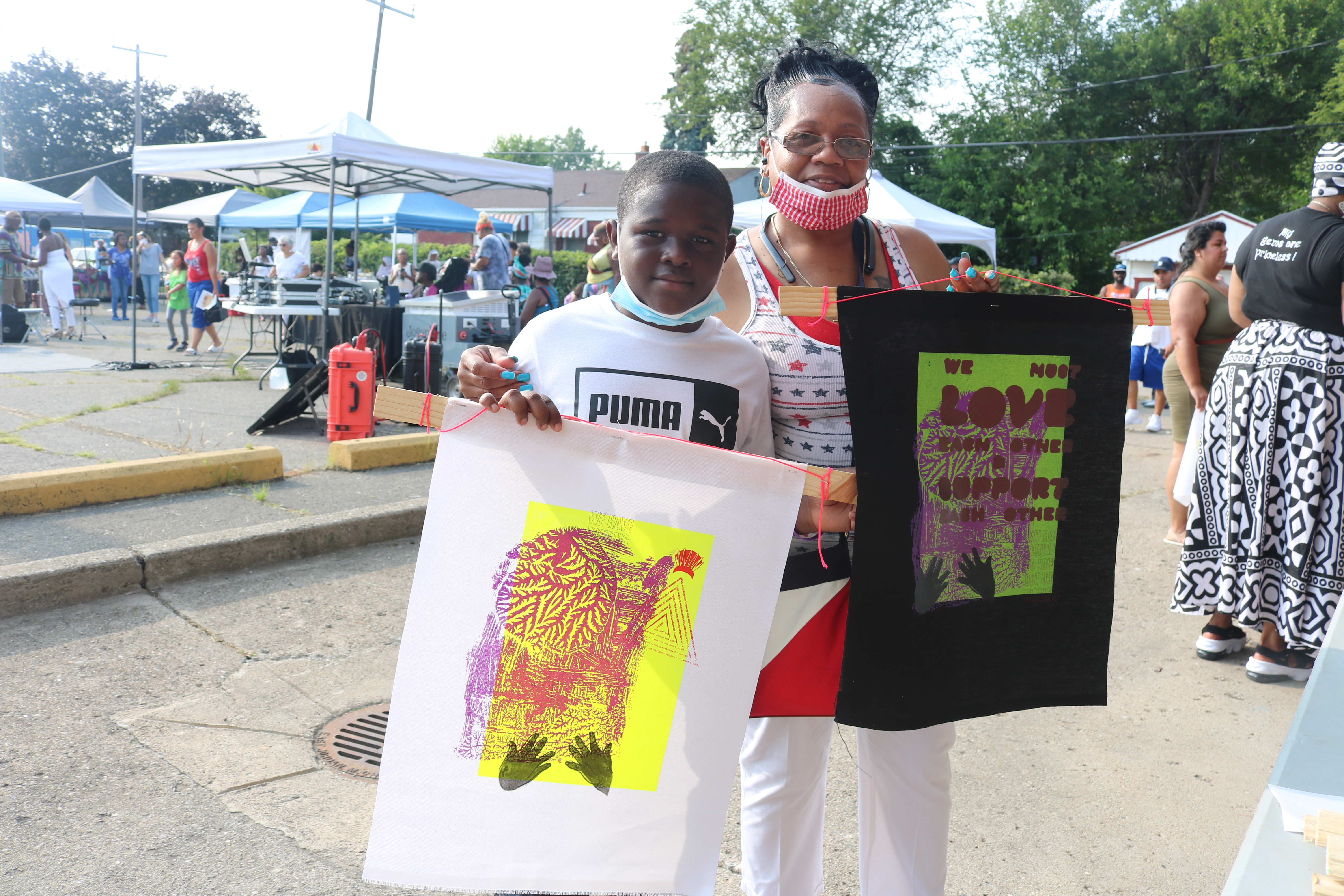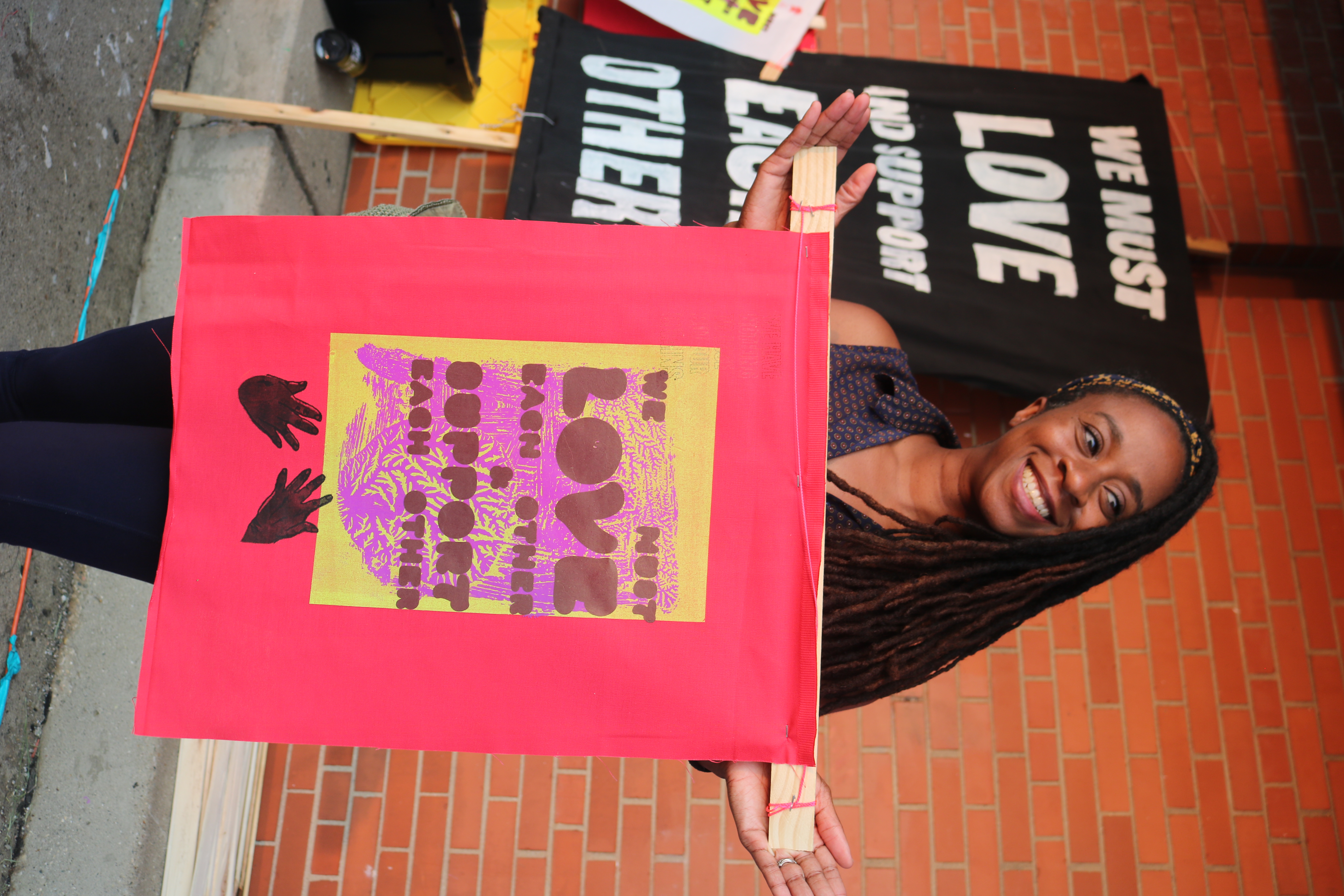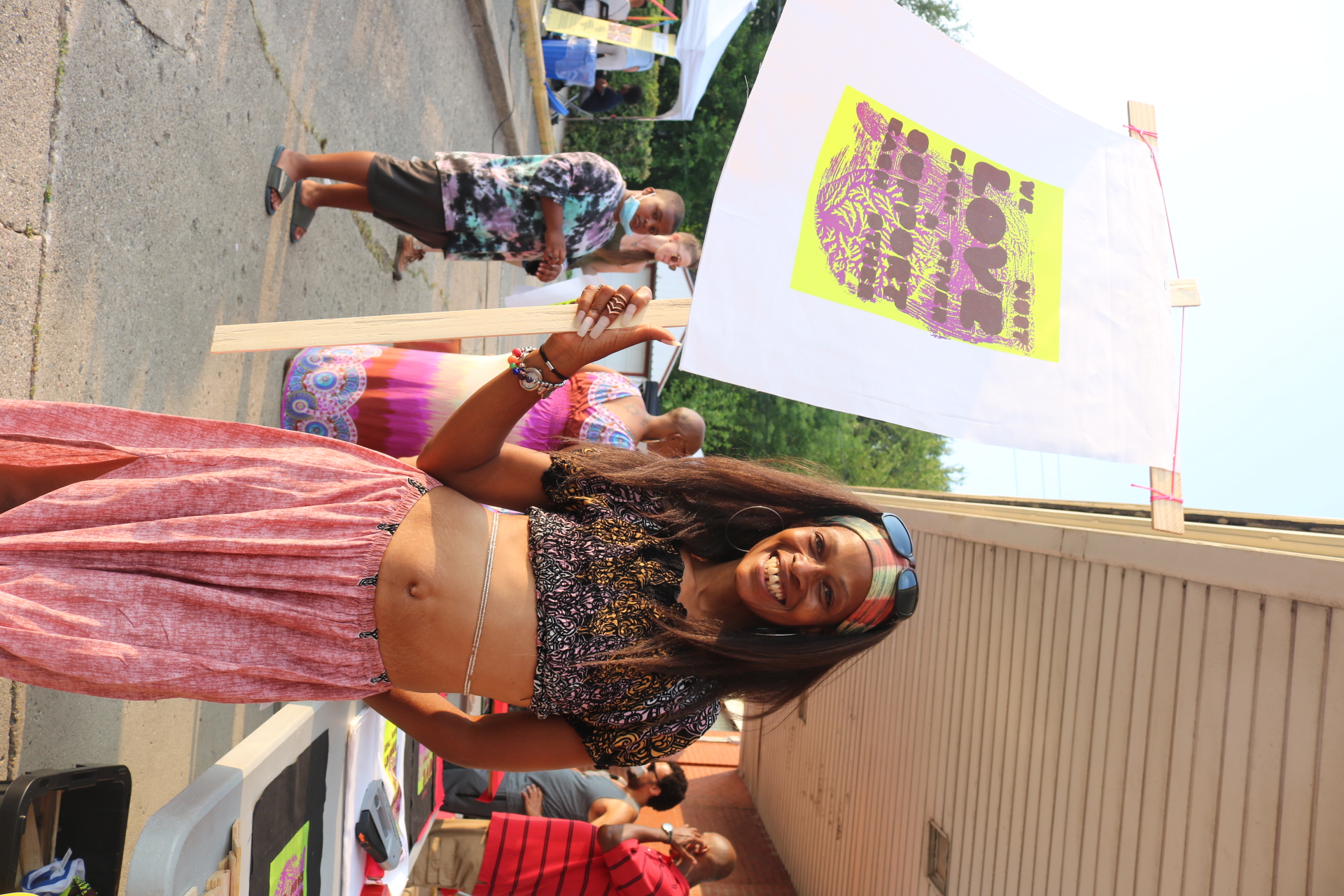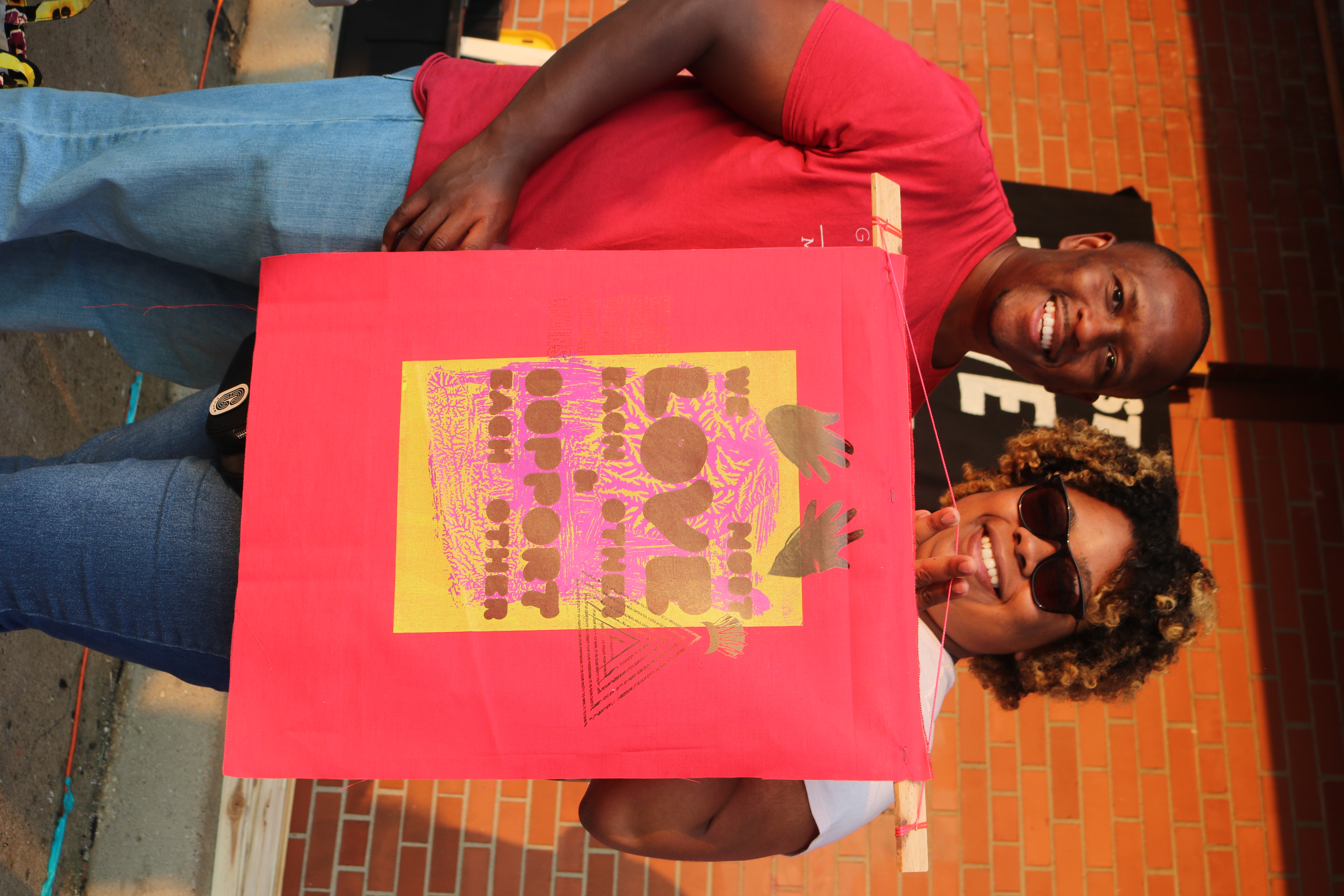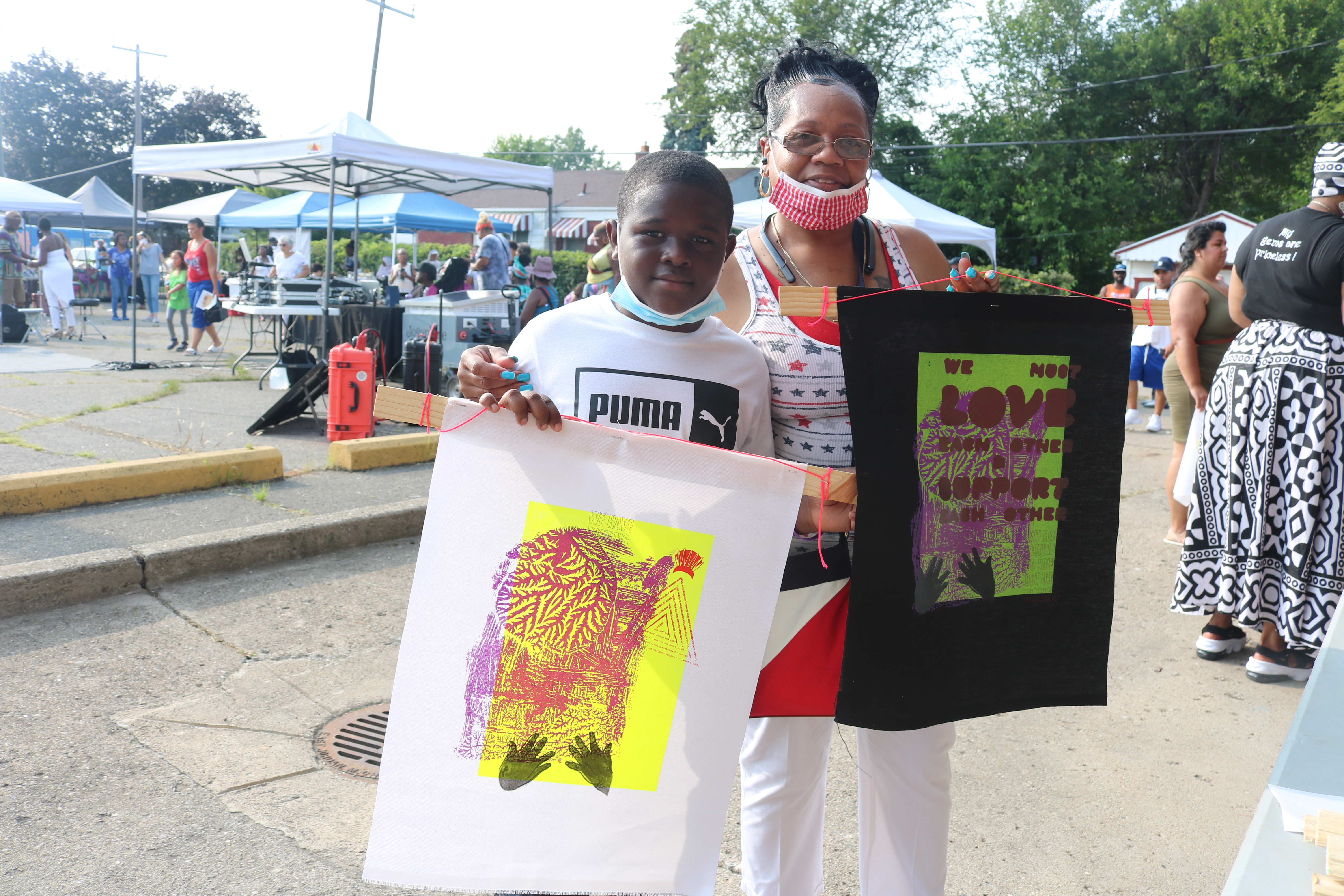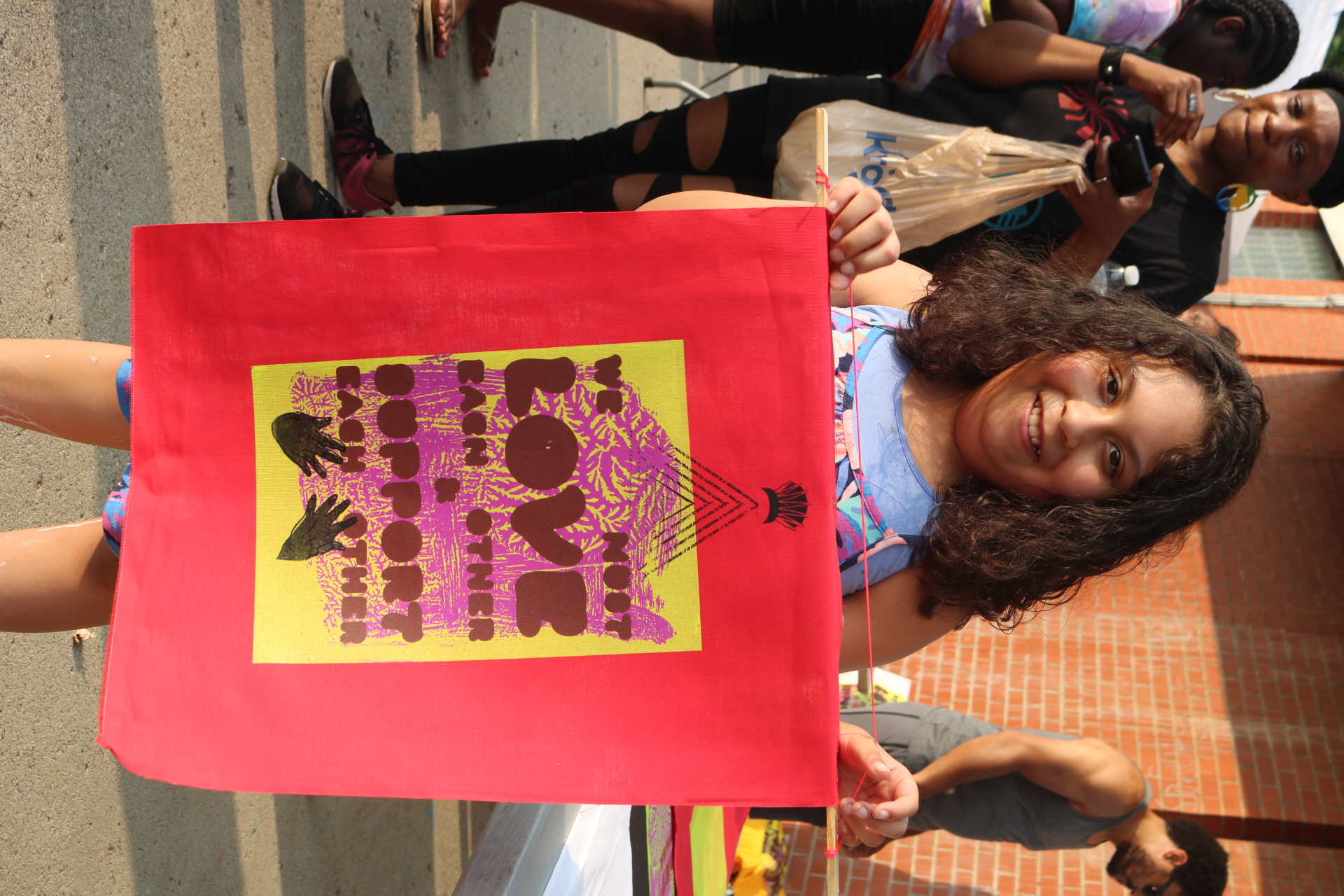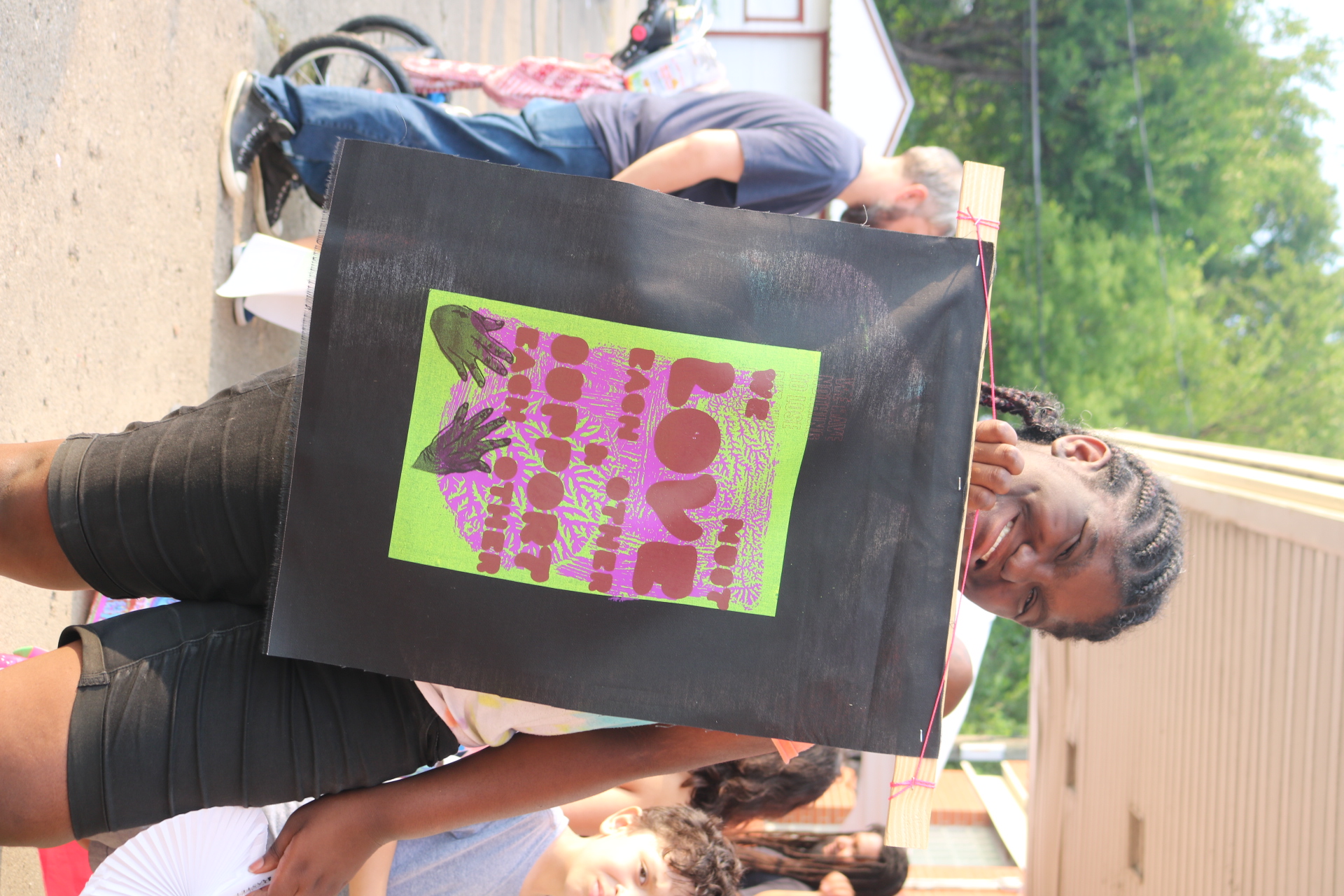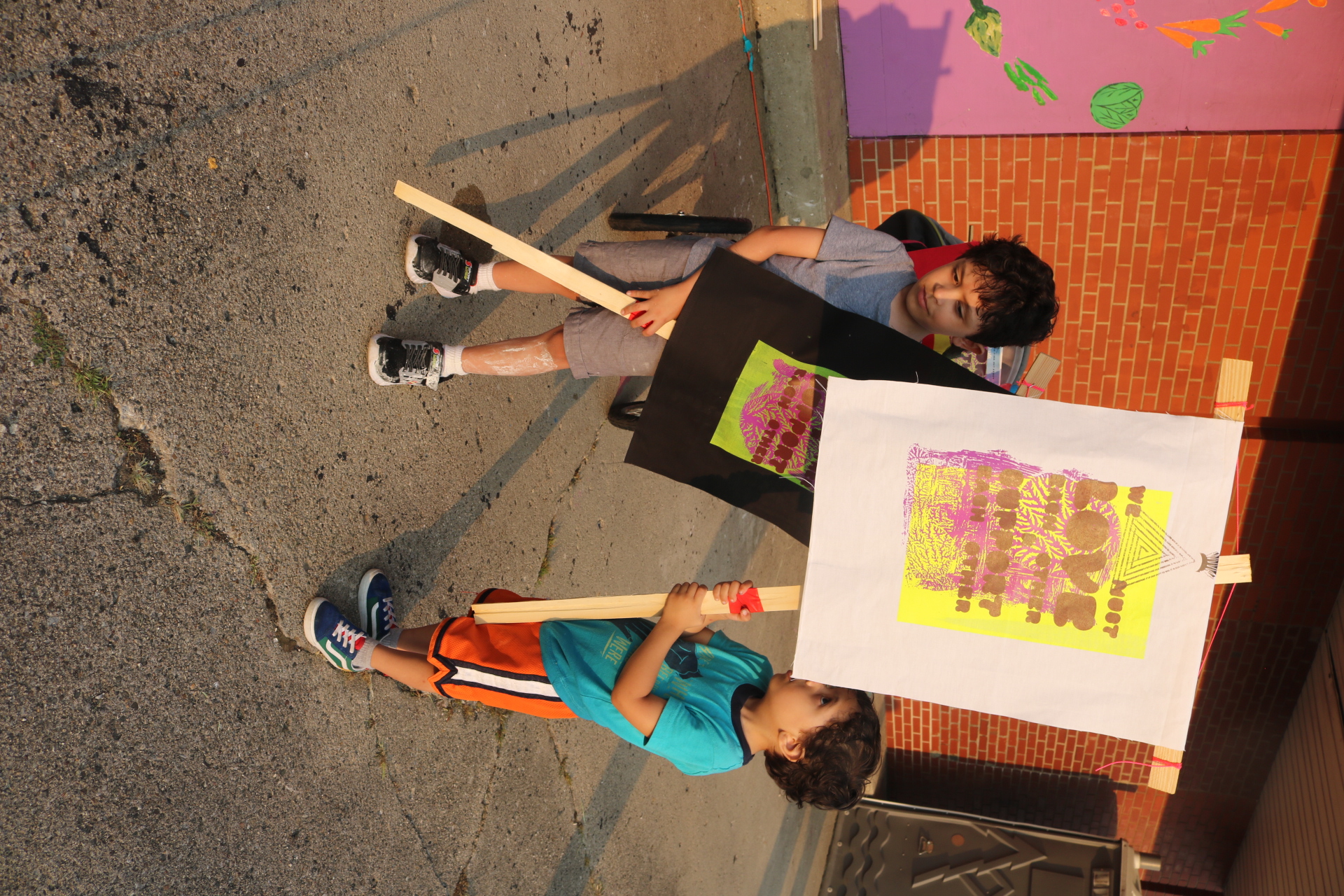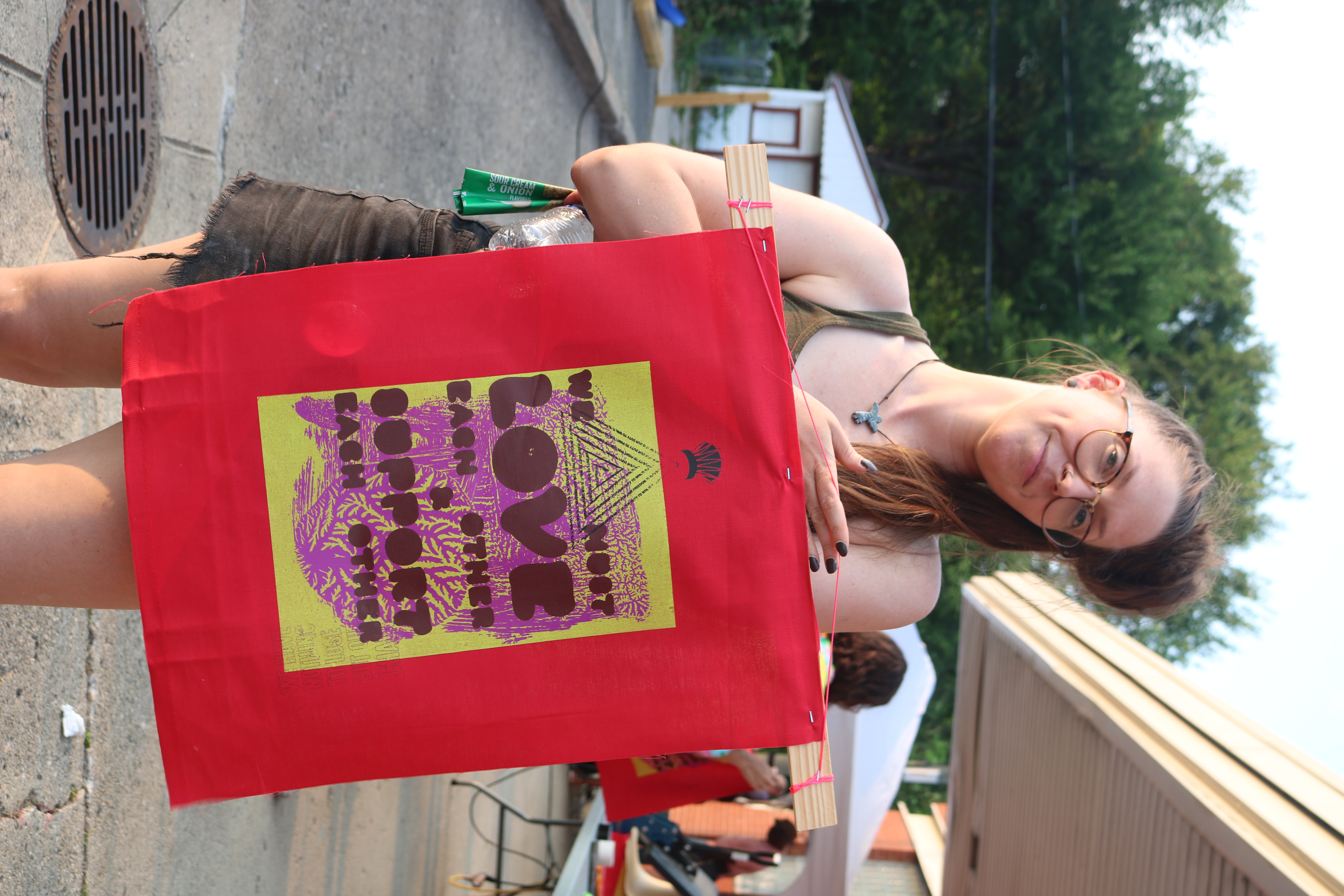 ︎
The inaugural banners for Talking Dolls Banner Lending Library were made in the summer of 2017. They were four simple banners made from black fabric and an old white bedsheet with Assata Shakur's words painted in red and white:
IT IS OUR DUTY TO FIGHT FOR OUR FREEDOM

IT IS OUR DUTY TO WIN

WE MUST LOVE EACH OTHER AND SUPPORT EACH OTHER

WE HAVE NOTHING TO LOSE BUT OUR CHAINS
Immediately following the community workshop whose labor produced the banners, they were carried to the nearby 50/50 Rally: Remembering 50 years since the Detroit Rebellion and 50 years of Palestinian Occupation at Veterans Park in Hamtramck. These relatively simple objects were immediately embraced and activated by the revelers.
Those banners have since been carried at numerous rallies, marches, direct actions, memorials, and celebrations over the past 4 years. They continue to be the most popular of the 'library' because Shakur's words offer guidance, resilience, care, and resolve. The banners that carry her message are approximately 4'x7' and they announce the intentions we set forth as a community. They were made during a moment of upheaval, but out of joyful, beloved community.
We re-imagined this moment on a different scale for
Detroit's Sidewalk Festival 2021 under this year's theme: HEALING REVIVAL PARTY
, for participants to reflect and be re-invigorated.
The digital template for the banners.
For the outdoor festival, we provided a screen-printing station with each of the largest elements of the design on individual screens which our team printed on-demand onto canvas cut to 18"x24". Prior to the event, we printed the smaller design elements onto transfer sheets and cut them to size, so participants could place them wherever they liked before a final heat-press cured them all in place.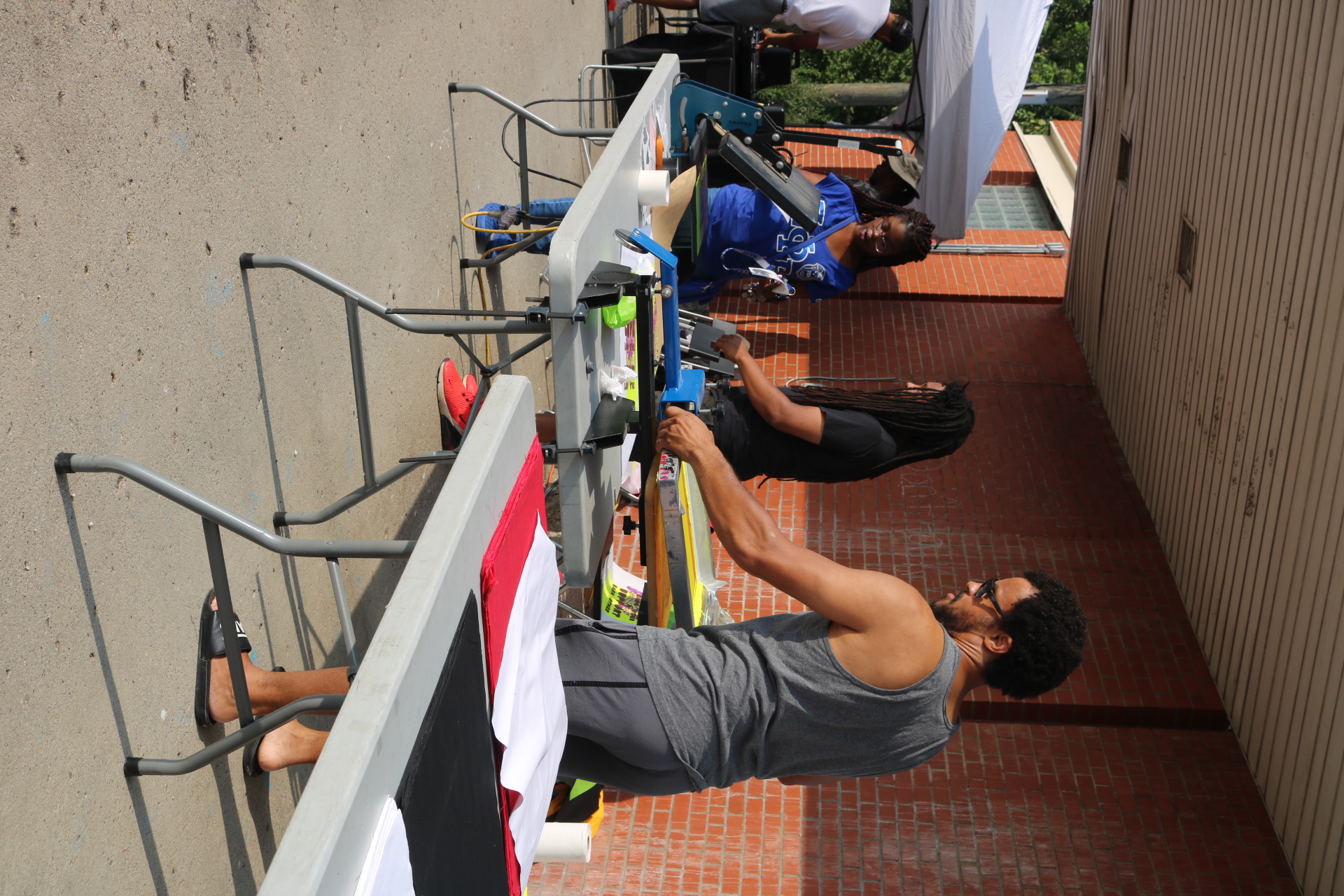 Wes Taylor and Ron Watters from Talking Dolls help a festival goer complete her banner.
All four stanzas of Shakur's incantation were designed to be unique components, emphasizing the meaning of each line and lending their flexibility within the canvas artboard. Another element, the hands of Grace Lee Boggs, were also included. Her work within the Detroit community spanned over 7 decades and emphasized exploring visionary answers to movement struggles through direct community action.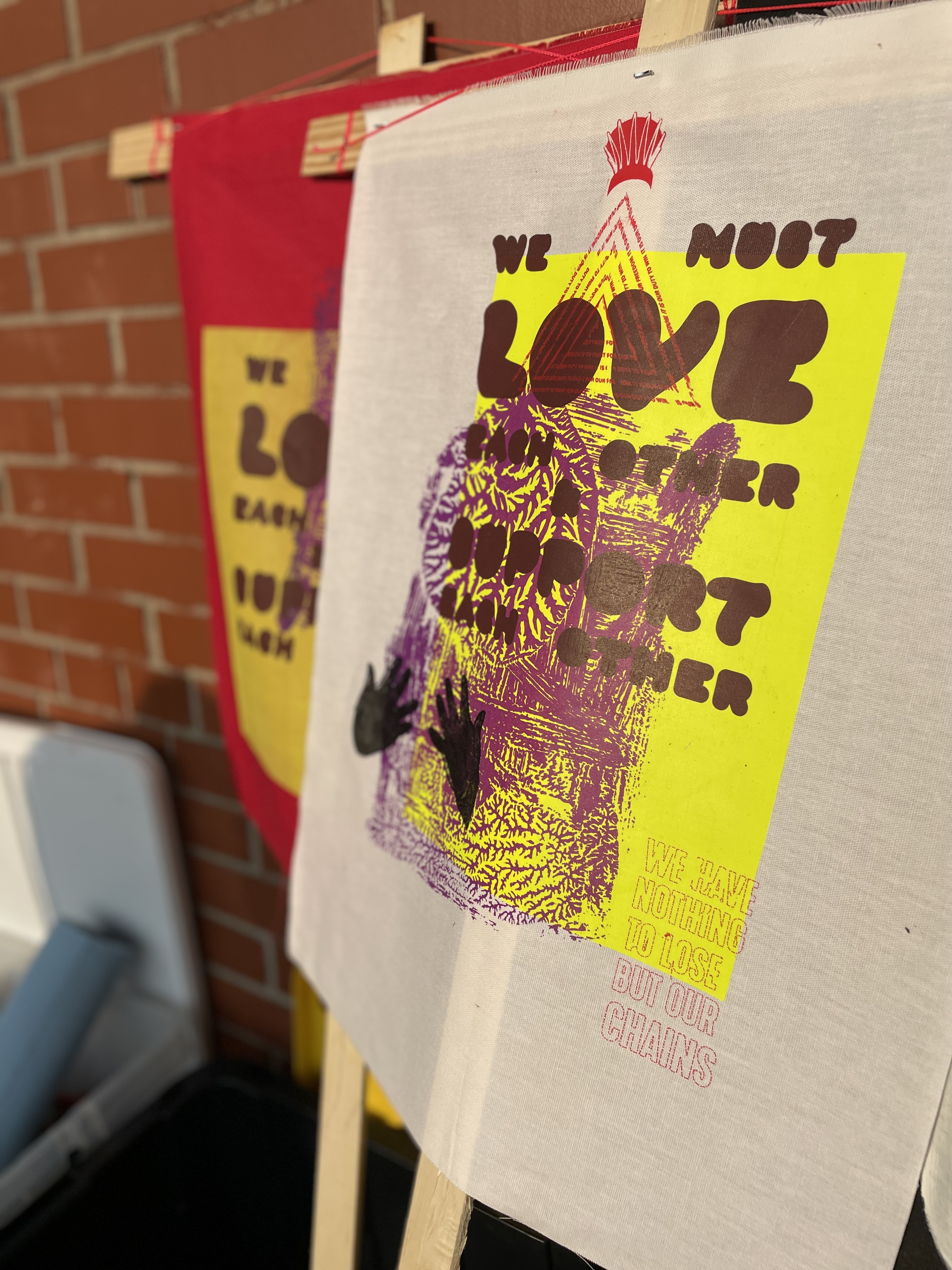 Upon completion of a participant's print, we stapled their fabric onto a lath crossbar, turning it into a small hand-held banner or wall-hanging. All members of the community were welcome to participate—all ages were included and we ensured accessibility support for disabled folks.
This was an interactive, collaborative performance of design, initiated by us, but realized with the community's enthusiastic involvement. We served the participants for nearly 6 hours non-stop, ultimately making about 75 unique pieces of art.
This action was about building Beloved Community—carving out a space where we could share our skills and technology but made so much richer by creating with festival-goers.
In this time of transition, we look to the wisdom of Assata Shakur and Grace Lee Boggs. "We must love each other and support each other". And "the only way to survive is by taking care of one another". This work is guided by these mantras, not only in aesthetics but in the physical manifestation.
This work was awarded Honorable Mention in the
GRAPHIS International Poster Competition Protest Posters 2
in 2021